Ever wonder about trans-fats and what exactly they are?
Many people grew up eating trans-fats. It has only been since 2006 that the term "trans-fats" was added to nutritional labels. Prior to 2006 they would be included under the blanket term of "partially hydrogenated oil." The history of trans-fats or partially hydrogented oils dates as far back as the 1890s. It was at that time that Nobel laureate Paul Sabatier worked to develop the chemistry of hydrogenation which enabled the margarine, oil hydrogenation, and synthetic methanol industries. The German chemist Wilhelm Normann showed in 1901 that liquid oils could be hydrogenated and patented the process in 1902. In 1909, Procter & Gamble acquired the US rights to the Normann patent; in 1911, they began marketing the first hydrogenated shortening, Crisco (composed largely of partially hydrogenated cottonseed oil). Because partially hydrogenated oils primarily came from plant oils, it wasn't until the late 1980s that studies revealed they were detrimental to the cardiovascular system.
Facts about trans-fat:
1. Trans fat is found in shortenings, margarine, snacks such as crackers, candies, and cookies, fried foods, pastries and other foods prepared with partially hydrogenated vegetable oils.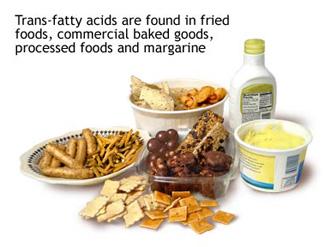 2. Hydrogenation is the process of bombarding an oil's fat molecules with hydrogen atoms, making it more dense and raising its melting point, so that the oil becomes solid at room temperature. An unfortunate side effect of this the creation of trans fatty acids. Partially hydrogenated oil means that the hydrogenation process stopped short of a full solid, reaching a more creamy, semi-soft, butterlike consistency. This is the story of margarine.
3. Cis and trans are terms that refer to the arrangement of chains of carbon atoms in a fat molecule. hydrogenation turns cis into trans.
4. Some margarine brands use fractionated oils instead of partially hydrogenated oils in order to eliminate trans-fat. The fractionation process involves heating then cooling a liquid oil, thus separating it to fractions that have different melting points. Unfortunately, this process raises the level of saturated fat in the oil.
5. Trans fat labeling on food packages has been mandatory since 2006.
6. Loophole alert: If a serving has less than o.5 grams of trans-fat, the label may state ZERO. Yes, that includes 0.49 grams in a serving size.
7. Trans-fat is an artificial creation, but there are some trace amounts of trans-fat found naturally in meat and dairy products, called vaccenic acid.
8. Consumption of food containing trans-fat has unequivocally been shown to increase the risk of heart disease by raising levels of LDL (bad cholesterol), and lowering levels of HDL (good cholesterol).
9. In 2003, Denmark effectively banned trans-fat from foods, charting a course for an 80% reduction of trans-fat in all foods.
10. In 2008, California became the first state to ban restaurant chains from using trans-fats for cooking or frying.
What to do at the supermarket: Take a look at the ingredient list to spot partially hydrogenated vegetable oils. Don't trust the nutrition label stating zero trans-fat per serving. Take a look at the ingredient list to spot partially hydrogenated vegetable oils.
source:
http://www.fooducate.com/blog
http://www.americanheart.org
http://www.zimbio.com